NEWS
Mass History and Social Science Policy Update:

MCAS will start with grade 8 civics. There may or may not be future assessments in elementary or high school. DESE is developing pilot, anticipated in spring 2020–more info to come.
Civic Engagement projects must occur in both 8th grade and high school. Again, more info to come.

Tuesday, April 9 – 3:30-5:00pm. Social Studies Leaders of Western Mass PLC. Haymarket Cafe, Northampton. Contact: rcairn@collaborative.org.
Centennial of 19th Amendment
Votes for Women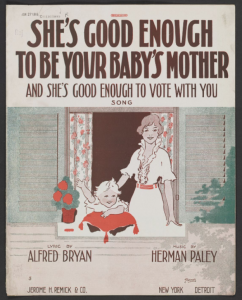 "She's Good Enough to Be Your Baby's Mother: And She's Good Enough to Vote with You". Alfred Bryan and Herman Paley. [1916].
From a collection of sheet music on women's suffrage.
https://www.loc.gov/resource/mussuffrage.mussuffrage-100123
https://womenshistorymonth.gov/
Contact rcairn@collaborative.org.
HISTORY AND CIVICS EDUCATION COURSES
America Transformed: Teaching Westward Expansion Using Primary Sources. Instructors Michelle LeBlanc, Rich Cairn, and historian Heather Cox RIchardson
April 3 & April 10, 2019, 9am-3pm – Boston Public Library, Leventhal Map Center. Register with Leventhal.
Teaching Grades K-5 Civic Engagement and Social Studies. Instructor Laurie Risler. Grad credit available. Register.
April 23 and May 21 – Northampton.
NEW RESOURCES AT THE LIBRARY OF CONGRESS
TPS Teachers Network – Teachers with experience working with primary sources are welcome to join this network.

Featured this week – YOU MUST LOGIN FIRST FOR THESE LINKS TO WORK:
Feature Discussions:
Library of Congress Teacher Blog http://blogs.loc.gov/teachers/
A Sailor, a Nurse, and a Kiss, on V-J Day
Primary Sources for Musical Learning: Exploring the Triad through the Civil War Bugle
Coding with Primary Sources: Exploring Bugle Calls through Programming
Primary Sources for Musical Learning: Workshop Opportunities
Library of Congress Events/Webinars:
April 4 – 7pm – The American Archive of Public Broadcasting in the Classroom – Register
April 16 – 4pm – Exploring Social Justice through the Arts – Part II – Register
April 30 – 4pm – Creatively Exploring the 12-Bar Blues – Register
OTHER RECOMMENDED EVENTS – Across Massachusetts and the U.S.
March 28 – 7pm – The Southwick Historical Society: How Daniel Shays Escaped the Hangman's Noose – Information
March 29 – 12:15pm – The Amherst Historical Society and Museum: Cowls in Amherst – The Founding Family's Generational Contributions to Building Community 1741-2019 – Information
April 12 – 12:15pm – The Amherst Historical Society & Museum: History of the JCA – Information
April 14 – 1-3pm – Nolumbeka Project: Indigenous Voices in the Berkshires – Main Street, Cummington, MA
April 15 – May 15 – Harvard Graduate School of Education: Teaching Students to Ask Their Own Questions – Best Practices in the Question Formulation Technique – Information and Registration (fees apply)
April 26 – 12:15-12:45pm – The Amherst Historical Society & Museum: Virtual Tour of the West Cemetery – Information
May 10 – 12:15-12:45pm – The Amherst Historical Society & Museum: 100 Years of Silk in the Valley History Bites Lunchtime Lecture – Information
Summer 2019:
Primary Source (Fees apply)
Other Resources:
**********************************
EmergingAmerica.org History eNews welcomes YOUR news & events.
Published Wednesdays; deadline Sunday noon. Archived at http://EmergingAmerica.org/blog.
– Reply to rcairn@collaborative.org to be removed from this list.
Register for CES events.
Teacher-created lessons, primary source sets, & assessments at: http://EmergingAmerica.org.
Follow Emerging America on Twitter and Facebook.  
Content created and featured in partnership with the TPS program does not indicate an endorsement by the Library of Congress.