EMERGING AMERICA HISTORY eNEWS Vol. 5, Issue 15 for April 11, 2018
NEWS
Child Immigrant Experiences of
Early 1900s and Today
See info below.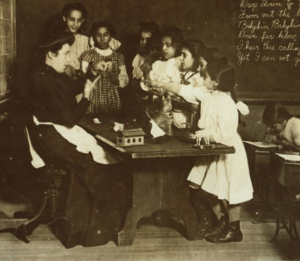 1909 photo of immigrant children at school in Boston, detail.
"Steamer Glass [i.e. class]" in Hancock School, Boston. Immigrant children.
Location: Boston, Massachusetts.
Image available at:  https://www.loc.gov/resource/nclc.04529/
Accessing Inquiry for Students with Disabilities Register now for Spring 2018.
Contact rcairn@collaborative.org. ACCESSING INQUIRY FOR ALL LEARNERS: Hands-on workshop to learn and practical skills for teaching diverse learners.
Accessing Inquiry for Students with Disabilities through Primary Sources:

April 24 & May 15 - 8am - 4pm - Northampton ($72.50)

Registration

.

Accessing Inquiry for English Learners through Primary Sources:

April 26 & May 8 - 8am - 3pm - Danbury, CT ($89)

Registration

. (Click "Register for Courses".)
"Accessing Inquiry" courses meet Mass license renewal requirements for 15-hours PD on students with disabilities or 15-hours PD on English Learners. Optional 1 Westfield State University grad credit in History available.
NEW RESOURCES AT THE LIBRARY OF CONGRESS
TPS Teachers Network - Teachers with experience working with primary sources are welcome to

join this network

.

Featured this week - YOU MUST LOG-IN FIRST FOR THESE LINKS TO WORK:

Feature Discussions:
Library of Congress Teacher Blog http://blogs.loc.gov/teachers/
Mathematics and Primary Sources: Historic Codes, Ciphers, and Computational Thinking, Part II - the Women Codebreakers of WWII

Native Americans in the First World War and the Fight for Citizenship
OTHER RECOMMENDED EVENTS - Across Massachusetts and the U.S
April 9 - Online Class (Fee) - ELA Smart Brief - Professional Development on teaching about the Holocaust -

Info

April 14 - 10am-4pm - Historic Deerfield

Patriot's Day Revolutionary Muster -

Info

History Workshop: Learn to write with a Quill Pen - Info

Gunsmithing Demonstration - Info

Silversmithing Demonstration - Info

April 16- April 22  - 9:30am-4pm - Historic Deerfield - Open Hearth Cooking Demonstration: What's for Dinner -

Info

April 16- April 22 - 12-4pm - Historic Deerfield - Quilling and Curling: An Art Form that Celebrates the Natural World -

Info

April 17 - 4pm - UMass Amherst History Department - Aurora Levins Morales: "Memory is Our Soil: Bringing History into the Commons" -

Info

April 19 - 7pm - Parlor of the Hatfield Congregational Church - Hatfield Historical Society - Who Walked This Valley Before There Was a Hatfield or a Hadley?

May 4 - 7-9pm - Western Massachusetts Jobs with Justice - Voices of Working People's History -

Info
Other Resources:
Summer 2018:
June 27-28 - Melrose. ALL WELCOME. Library of Congress Teaching with Primary Sources.

SEEM Collaborative

. C

ontinue the conversation and practice of finding and using a wealth of primary source materials. FREE. Contact

Josh Cristiano

.

Jul 18 and 19 - 9am- 3pm - 4QM Teaching - Brookline, MA - Four Question Method Workshop -

Info
This elementary school lesson engages students with primary source materials that make vivid the journeys and lives of immigrant children in the early 20th century and today. It features video interviews with kids who have recently immigrated and archival photos of child immigrants from the turn of the 20th century. Designed to help elementary school students learn from primary and secondary sources, and also uses historical fiction and imaginative prompts to develop understanding and empathy for the immigrant experience. ********************************** EmergingAmerica.org History eNews welcomes YOUR news & events. Published most Wednesdays; deadline Monday noon. Archived at http://EmergingAmerica.org/blog. - Reply to rcairn@collaborative.org to be removed from this list. Register for CES events. Teacher-created lessons, primary source sets, & assessments at: http://EmergingAmerica.org. Follow Emerging America on Twitter and Facebook.