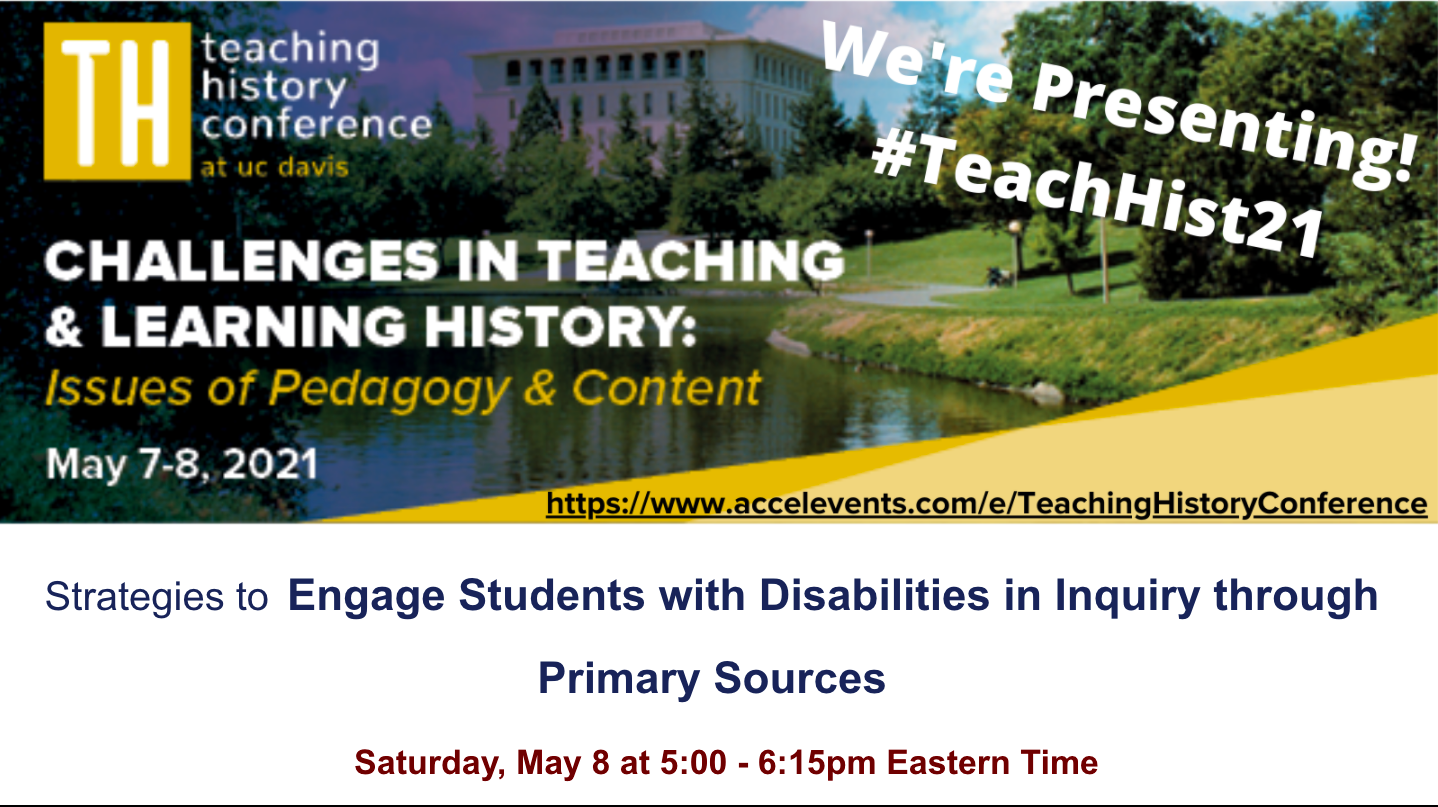 Upcoming and Recorded Short Presentations by Emerging America
Inclusion for Civic Learning - Spring 2021 Webinar Series
Inclusion in Civics and History - Easterseals #teachdisabilityhistory Campaign
April 28, 2021 - 4:00pm Eastern Time
Desi Forte, Easterseals coordinator young adult support for #teachdisabilityhistory student campaign
Young adults from Easterseals support group for #teachdisabilityhistory
Jennifer Groskin, Teacher, Newburyport Middle School
Rich Cairn, Director of Emerging America
Alison Noyes, Assistant Director of Emerging America
Learn about the Easterseals campaign to support the teaching of Disability History. Participate in an interactive game used in the campaign. (Participants who wish could have a phone or other second device ready to run Kahoot during the webinar. Not required.) Hear from young adult activists about how the campaign came about and how it works as a virtual project. (Watch video here.) Learn about strategies and resources to support inclusion of all students in civic learning, including K-12 Disability History curriculum. 
Mass Civics for All - Civic Learning Week 2021 
Free 
Register with the Massachusetts Civic Learning Coalition as part of Civic Learning Week 
Thinkport Inquiry Kits – Teaching Tools from Maryland Humanities and Maryland Public Television
May 4, 2021 - 4:00pm Eastern Time
Lia Atanat, Maryland Humanities
Join Lia Atanat from Maryland Humanities as she demonstrates the exciting Thinkport Inquiry Kits. From early cultures to the modern-day role of the United States, 190 Thinkport kits examine social studies/history themes. Inquiry Kits are great for use in classroom activities, or as starter kits for History Day projects! Lia will showcase Thinkport kits on Disability History as well as Immigration History. Explore this exciting classroom tool to engage ALL learners! Developed with support from the Library of Congress Teaching with Primary Sources Program. https://thinkport.org/tps/ 
Free
Strategies to Engage All Students in Asking Their Own Questions
May 13, 2021 - 4:00pm Eastern Time
Sarah Westbrook, Director of Professional Learning at the Right Question Institute
The Question Formulation Technique (QFT) is a powerful tool to help mobilize citizens of all ages and abilities in civic action. Join the Right Question Institute's Sarah Westbrook as she engages webinar participants in the QFT and demonstrates strategies and tools for using the QFT with diverse groups of learners, including students with disabilities and English Learners. Learn from veteran teachers as they share experiences and tips for using the QFT to deepen inclusion. The Right Question Institute developed the QFT as both a simple, practical teaching technique and a philosophy of learning that empowers ALL learners to discover questions for themselves. https://rightquestion.org/what-is-the-qft/
Free
---
Other Spring 2021 Events
2021 National Council for History Education Conference
"Empowerment: Disability Rights through Primary Sources"
April 8-11 - Emerging America poster at National Council for History Education annual conference.
Conference info and conference registration. 
Virtual Portal (once you have registered). 
2021 Teaching History Conference - The History Project at UC Davis 
"Strategies to Engage Students with Disabilities in Inquiry through Primary Sources"
May 7-8 - Emerging America workshop on Saturday, May 8 at 5pm E.S.T. Conference Info and Registration. 
Massachusetts Civic Learning Coalition - Spring Webinar Training Series
"Civics in the Elementary Grades" featuring History's Mysteries
Tue May 25, 2021 4pm – 5pm.  Series Info and Registration.
2021 Dublin Seminar: Living with Disabilities in New England, 1630-1930
Scholars from across the U.S. will present and discuss exciting new research. Teachers can earn CEUs or 1 grad credit in History from Westfield State University. 
Participate in the two days, and the one-hour teacher workshop. Optional graduate credit is available for a fee of $125 and completion of a written assignment. 
June 25 & 26, with teacher workshop on June 29. 
Info. Registration open soon. 
Recent Recorded Presentations & Posters
Contact Rich Cairn rcairn@collaborative.org to schedule Accessing Inquiry and other professional development workshops remotely in your school district, state, or region in 2021.