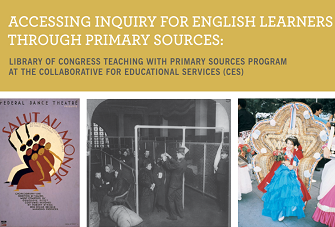 Thu, 10/19/2023
The fall 2023 section of this course filled. Watch for future offerings. 

 
This course introduces exemplars of best practice pedagogy for English Learners in History and Social Studies classrooms. It demonstrates dual-language-learner-friendly approaches to primary and secondary sources.
English Learners bring rich contributions to the subjects of social studies and humanities that can go untapped if their language abilities limit their access to content, understanding of difficult core concepts, and participation in class discussion. Primary sources, when used right, can make a critical and empowering difference. 
In this graduate-level course, Emerging America presents hands-on techniques to support English Learners' access to History, Humanities, and Social Science content across grades (especially for WiDA levels 3-5), including advanced topics. The course offers access to a wealth of state and national resources on teaching English Learners, integrated with the inquiry-based approaches underlying the Library of Congress, Massachusetts Framework, and National Council for the Social Studies standards for teaching social studies concepts and skills. 
Building on a foundation of Universal Design for Learning instructional approaches that will enhance teaching for ALL students, this course pairs the presentation and modeling of accessible teaching tools with an exploration of the history of immigrants and foreign language communities in the U.S.. Participants will:
Focus on strategies to teach social science concepts such as cause and effect, academic conversation, and writing, including the purposeful application of sentence stems in order to support multilingual learners of all proficiency levels and abilities.
Examine the standards-based history curriculum of immigrants and foreign-language communities in the US, issues of citizenship, and struggles for empowerment.
Create/adapt lessons using the rich resources of the Library of Congress and other free online collections to result in a teachable lesson plan, including an emphasis on assets-based instruction and engaging multilingual learners through explicit culturally responsive teaching practices.
To prepare for the first session, all participants are required to complete several short readings and a writing assignment to share on the TPS Teachers Network. Assignment details will be emailed after registration is complete.
This course meets Massachusetts state ESE relicense requirement of 15 PDPs in strategies for effective teaching for English Learners.
Audience
Teachers in History, Social Studies, English Language Arts and the Humanities as well as Teachers of English as a Second Language. Also Librarians, Special Education Teachers, and other Specialists; Grades 4-12.
Cost
Thanks to generous support from the Teaching with Primary Sources (TPS) Eastern Region program, managed by Waynesburg University, a course normally costing $350 per participant is $100 per participant ($85 for educators from CES member districts).
Credits
Please note: This is a graduate-level course. (Sample syllabus from previous course). All participants will be required to prepare for the start of the training by completing several short readings and a writing assignment to share in the TPS Teachers Network. More about this assignment will be emailed after registration is complete.
22.5 PDPs will be awarded to participants upon completion of these two days of training, in addition to outside reading and assignments (as per DESE regulations). Note that these PDPs will satisfy the ELL or Special Education-related requirement for recertification. 
Participants may choose instead to take this course for 1 graduate credit in partnership with Westfield State University. To earn PDPs or Graduate Credit, participants must complete all assignments by the last class, details of which will be provided in the class syllabus. Graduate Credit from Westfield State University costs $150. 
Dates and Location
October 19 and November 16, 8:30am - 3:30pm, Collaborative for Educational Service. Register by October 12.