National History Education Resources

Social struggles of many kinds—civil rights, labor issues, suffrage, immigration and assimilation, the provision of health care for all—make it clear that history is useful for understanding the experiences and problems we encounter in the present. The Disability History Museum aims to provide all site visitors, people with and without disabilities, researchers, teachers and students, with a wide array of tools to help deepen their understanding of human variation and difference, and to expand appreciation of how vital to our common life the experiences of people with disabilities have always been. Through their website, the DHM provides a large library of resources relating to disability history as well as lesson plans developed by classroom teachers to integrate topics in disability history with larger themes addressed in secondary and higher education course work in U.S. History, American Studies, Civics, Government, and Law.

NEH's EDSITEment is a nationally recognized destination for teachers seeking rich social studies and interdisciplinary resources on the Internet. EDSITEment offers an impressive assortment of free online humanities resources including lesson plans, reference materials, and an active blog full of exciting news and articles. The website contains over 500 scholar- and teacher-developed lesson plans based on primary sources for the K-12 classroom. The lessons link to more than 400 peer-reviewed websites selected for their high quality humanities content and interactive design.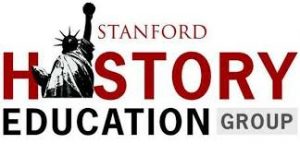 There are a many excellent free resources available from the Stanford History Education Group (SHEG), including secondary level curriculum for U.S. and World History; model assessments with examples student work; and insightful articles.
SHEG curricula engage students in historical thinking by focusing on a central question, then guiding students through a set of primary sources that are selected for students with a diverse set of skills.

The mission of this leading professional organization for the Social Studies is to provide leadership, serve and support to all social studies educators. It publishes the process-oriented Curriculum Standards for Social Studies and the peer-reviewed journal, Social Education. In addition, they publish articles and white papers on important issues and methods in History Education.

The goal of this organization is to help K-12 teachers access high-quality materials and resources that are available online to enhance the teaching of American History. Their website brings together useful and up-to-date professional development and online resources from organizations around the county. The site also includes a customized search feature called theHistory Gateway, which filters searches to include .edu, .gov and .org sites.

This UCLA-based organization specializes in connecting teachers with historians through publications, professional development and community engagement. Working with classroom teachers, curriculum directors, historians, public interest groups and parents, the NCHS developed the content-rich National Standards for History, which are available online. World History for Us All is a free online curriculum that draws on academic research into looking at world history from cross-cultural, comparative and global perspectives, connecting activities and documents to an overarching set of guiding historical concepts, objectives and themes.
Massachusetts History Education Resources

This museum of local history is located in Northampton, Massachusetts. Through partnerships with local scholars and educational institutions, Historic Northampton has produced a number of online exhibits that focus on a local story with close connections to nationally important events. The Goody Parsons Witchcraft Case: A Journey to 17th Century Northampton online exhibit gives insight into colonial American life and social conventions by following the story of a local woman accused of witchcraft.
Leventhal Map Center of the Boston Public Library houses 200,000 maps and 5,000 atlases and has a website that includes more than 7,700 digitized maps dating from the 15th century to the present. The collection has a particular strength in maps and atlases from the New England region, American Revolutionary War period, nautical charts, and world urban centers. More than 100 lesson plans based on national standards are available on the website, and professional development programs for teachers are scheduled regularly throughout the year on the first floor of the Library's historic building in Copley Square. Leventhal Map Center includes an exhibition gallery, a kids activity area, and a reading room for rare map research.

The Massachusetts Council for the Social Studies (MCSS) is a network of social studies educators who work at every level of schooling. MCSS is affiliated with the National Council for the Social Studies (NCSS) and supports high standards of teaching, teacher preparation, and curriculum development. NCSS has developed and published both a code of ethics and academic freedom standards. and has a defense fund to provide legal assistance to teachers threatened with actions that violate this freedom. Social Education, the official journal of NCSS since 1937, publishes information and commentary. The Social Studies Professional is a newsletter of resources and opportunities. Social Studies and the Young Learner is a quarterly journal devoted exclusively to elementary social studies education.

Begun as a major arsenal under the authority of General George Washington early in the Revolutionary War, the first national armory began manufacturing muskets in 1794. Within decades, Springfield Armory had perfected pioneering manufacturing methods that were critical to American industrialization. The Armory ceased manufacturing in 1968, and was reopened in 1978 as a National Historic Site under the administration of the National Park Service. The Forge of Innovation site tells the history of this historic site and includes interactive activities and curricula for elementary, middle and high school classrooms.